Gloversville Water Works Main Office
67 - 73 South Main St.
Gloversville, NY 12078
518-773-4520
Office Hours:
Monday –Friday 8:00 AM - 4:00 PM
Closed weekends and holidays
---
Gloversville Water Works Filtration Plant
329 Norboro Rd
Gloversville, NY 12078
518-773-4586
Lab Hours:
Summer Hours:  May 2 – September 2
Monday – Friday 6 am to 1:30 pm
Winter Hours: September 5 – April 28
Monday – Friday 7 am to 2:30 pm
Closed weekends and holidays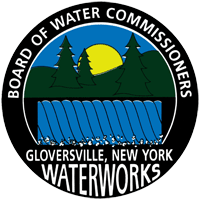 GloversvilleWater.Com Home

(Notice History)
Notice (7/6/2023) - Federal Low Income Household Water Assistance Program
There is a new Federal Low Income Household Water Assistance Program (LIHWAP) that may provide up to $5000 for past due water/sewer bills if income qualified. Please contact your local Department of Social Services office or call the Office of Temporary and Disability Assistance (OTDA) at 800-342-3009 or online at www.otda.ny.gov to apply.
All pertinent information relating to the Water Department can be found on our website, as well the ability to submit fillable forms that you would otherwise have to come into the office to receive. The website is: www.gloversvillewater.com. The Annual Water Quality Report (AWQR) can be accessed by visiting our website and clicking on the 2021 Annual Water Quality Report tab. It may also be viewed on our Facebook page at Gloversville Water Works. Those still wanting a hard copy can call our office at (518)773-4520 to have a copy mailed to them. Copies will also be made available at the Gloversville Public Library and the Gloversville Senior Center.
---
Notice (5/25/2023) - RATE INCREASE EFFECTIVE 3/1/23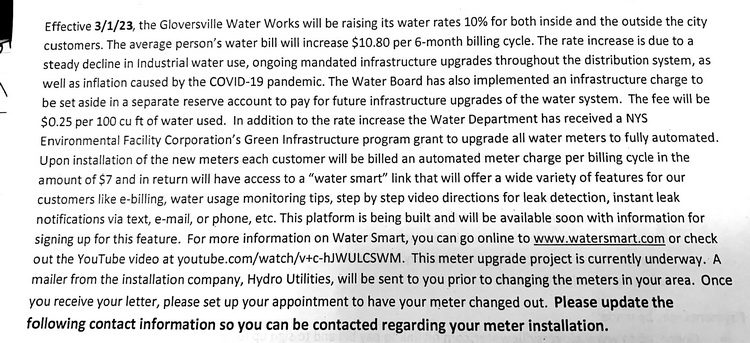 ---
Notice (1/20/2023) - Water meter upgrade project
**CITY OF GLOVERSVILLE LAUNCHES WATER METER CHANGE OUT PROGRAM**
The Gloversville Water Department has contracted with Hydro Utilities to coordinate a water meter change out program for Gloversville water customers.
Every Gloversville water customer will receive a new meter; however, we are staggering the replacement of the meters according to our water billing schedule. Please contact Hydro Utilities only if you've received a letter directing you to do so.
If you received a letter by mail from the Gloversville Water Department regarding water meter replacement and Hydro Utilities, please contact Hydro Utilities by phone or online as this is NOT a scam:

- Contact Hydro Utilities by phone: 1 (866) 983-8080 Monday through Friday between 8:00 am and 4:00 pm. Please provide the Work Order # and Service # found to the right of your mailing address on the letter you received from them.

- Go to www.gloversvillemeters.com and enter the Work Order # and Service # found to the right of your mailing address on the letter you received from Hydro Utilities to login and schedule your appointment.
Hydro Utilities employees will have a photo ID badge and drive clearly marked vehicles.
Gloversville Water customers are asked to contact Hydro Utilities directly because the Gloversville Water Department is not scheduling appointments for the water meter change out
---
Notice (1/6/2023) - Water meter upgrade project
The Gloversville Water Department has received a NYS Environmental Facility Corporation's Green Infrastructure program grant to upgrade all water meters in the system to fully automated. We have partnered with a meter installation company, Hydro Utilities. You will be contacted by Hydro Utilities by mail to set up an appointment for your new meter. THIS IS NOT A SCAM. Please note the Hydro Utilities logo as you will see it on contractor vehicles, clothing, and ID badges. The new fully automated meter system will allow access to a "water smart" app that will offer a wide variety of convenient features for our customers like e-billing, water usage monitoring tips, step by step video directions for leak detection, instant leak notifications via text, e-mail, or phone, etc. This meter upgrade project will be starting January 2023. The project will begin in District #1, North of W Fulton Street and West of N Main Street. A mailer from the installation company, Hydro Utilities, will be sent to you prior to changing the meters in your area.


Anthony Mendetta
Superintendent Gloversville Water Works
---
Amazing Drone Pictures of Our Fantastic Reservoirs
Click for Larger View