Notice History
ATTENTION!!
Fees for Frozen Meters are Increasing Effective February 1st as Follows:
1st OFFENSE - $100.00
2nd OFFENSE - $175.00
3rd OFFENSE & BEYOND - $270.00 (current cost of meter replacement subject to change.)

---
Gloversville Water Department has adopted a new policy regarding fees for a frozen water service and unmetered water loss due to a major piping failure. A copy of the resolutions for these new policies can be obtained at the Water Department or by calling 518-773-4520 for a copy.
---
Our New Location at 67 - 73 South Main St.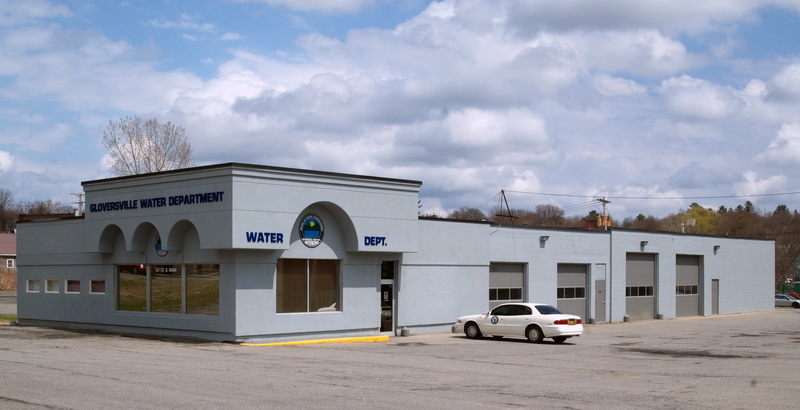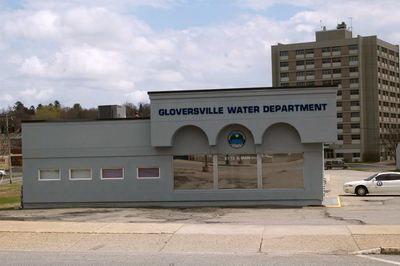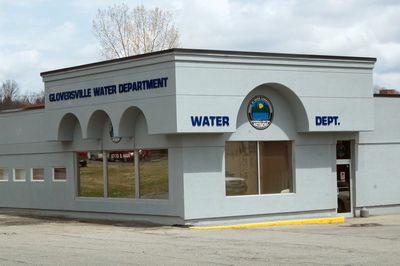 Notice (12/13/2021) - Water Outage UPDATE
On behalf of myself, the Water Board, and all the employees, we would like to thank everyone who supported us during our major water emergency on December 7th, 2021. We can't thank the individuals in the public enough who brought food, coffee, and refreshments to our employees out working around the clock to get your water turned back on. Your support was very much appreciated! We would also like to publicly thank the following agencies for their assistance and support during the emergency: Fulton County Emergency Management Office, City of Gloversville Mayor, Vincent DeSantis, and staff, Gloversville Fire Department, Gloversville DPW, Gloversville Police Department, Johnstown Water Department, Dan's Excavation, Jack Farrelly Company, NYS Department of Health, NYS Office of Emergency Management/Homeland Security, CT Male and Associates, and Mike Worden from Core and Main. A special thank you to Walmart Distribution Center, Jason from our local food pantry, and CG Roxane for donations of bottled water for our residents and Lexington, Subway, and Brass Monkey for donations of food. Without everyone's cooperation and coordination we would not have been able to resolve this issue as quickly as we did. It makes me proud to be the head of this department knowing the endless dedication our employees have serving the public and knowing all the support we have from the community and all the agencies in it.
Thank you again to all involved.
Anthony Mendetta
Superintendent Gloversville Water Works

Notice (12/10/2021) - Water Outage UPDATE
9:00 a.m. - The boil water advisory has been lifted! Thank you for your patience during our water emergency.
7:00 a.m. - Bottled water distribution this morning starting at 7am until the boil water advisory is lifted.
---
Notice (12/10/2021) - Water Outage UPDATE
The boil water advisory is still in effect today. Water distribution will be at 67 S Main St today from 7am - 6pm.
UPDATE: Per NYS Department of Health regulations, today we have submitted our second round of water samples to verify there is no bacteria in the water. Our first round of samples came back good! We anticipate lifting the boil water advisory tomorrow after we receive the results from our second batch of water samples. Once we are cleared through the Department of Health, we will be notifying our residents on our Facebook page, www.gloversvillewater.com, the local media outlets, and the reverse 911 notification system.
If you are not currently signed up, please go to the following link: http://hyper-reach.com/fultonsignup.html to sign up. We will have bottled water distribution tonight until 6pm at 67 S Main St and again in the morning at 7am until the boil water advisory is over. Thank you for your patience and cooperation during our water emergency.
---
Notice (12/9/2021) - Water Outage UPDATE
Please continue to boil your water for consumption. As long as there is a boil water advisory, the Gloversville Water Department will provide bottled water to our residents. Water distribution at 67 S Main St will be until 4pm today. The conserve water ban has been lifted.
---
Notice (12/8/2021) - Water Outage UPDATE
We were able to get the leak stopped. Currently we are working on filling up the clearwell. This means that some parts of the city still will not have water until we reach a certain level of water in the clearwell. We are still asking everyone to please conserve water. The boil water advisory is still in affect. We do have bottled water available at 67 S Main St and bulk water for filling jugs. Please pull up in front of the building to the bay door for assistance. Thank you for your patience during our water emergency.
* Please remember that after a water main break or hydrant flushing to check your cold water first. If you see sediment in your water do not use the hot water as it may harm the hot water heater. Run the cold water until it is clear and then you can use the hot water.
** Can I use the water from the tap for other purposes? You can continue to use tap water for bathing, showering, washing dishes and clothes during a Boil Water Advisory, as long as you take precautions that no one drinks it. Toddlers and young children are most at risk of accidental ingestion during bathing, so need to be watched carefully.
---
Notice (12/7/2021) - Water Outage
The Gloversville Water department has a major water main break. If you have water, please conserve it. We also have a boil water advisory in effect. We will post updates on our Gloverville Water Works Facebook page.
---
Notice (10/17/2021) - HYDRANT FLUSHING TO BEGIN Sunday, October 17

Starting Sunday, October 17, we will begin flushing hydrants from 10 pm to 6 am. We are starting on North end of town and working South. We will be posting signs on the streets being flushed that night as well as posting the streets on Facebook and our web page.
Click Here for a list of the streets for each night beginning 10/17/21. The first week is Sunday through Thursday night, 10/17-10/21/21. The second week is 10/24-10/28/21.
* If you see discoloration, the water is safe to drink. Please run your COLD water until the water runs clear.
---
Notice (1/26/2020) - ADVICE FROM THE WATER DEPT.


If you are not going to be home for a lengthy amount of time, we advise that you have us turn off your water at the street to prevent any pipes breaking resulting in an expensive bill. We also advise to have your meter removed so you do not receive a minimum bill.

Also, having little or no heat in your basement can cause pipes to burst in the winter time which will result in a high bill as well and/or a frozen meter

ATTENTION!!
Fees for Frozen Meters are Increasing Effective February 1st as Follows:
1st OFFENSE - $100.00
2nd OFFENSE - $175.00
3rd OFFENSE & BEYOND - $270.00 (current cost of meter replacement subject to change.)

---